"No To The Coup"
Turkish President Recep Tayyip Erdogan's hatred of the Internet is legendary. Like all tyrants, even those as benevolent as he believes himself, as a 'respecter of democracy' to be, he is convinced it is the work of the devil, meant to undercut his authority by giving Turks an avenue to express themselves, in ways contrary to how he feels he should be regarded. Moreover the tools of the devil, like Facebook and Twitter permitted Turks to communicate instantly with one another, to devise conspiracies and to plot insurrection.
Burham Ozbilici,
AP
The protests that took place at Gezi Park in Istanbul three years ago resulted from Erdogan's plans to transform the public and much-used green space so beloved of area Turks into a business and investment opportunity, to change the green atmosphere of nature's design, to the green transference of money through building on that natural site -- depriving people of a social gathering place -- a high-end shopping complex attractive to foreign investment.
AFP

Demonstrators heading for Taksim Square. Masks and swim goggles help protect them from tear gas.
Prime Minister at the time, Erdogan sent out the security police and the troops who used water cannons and tear gas to disperse the crowds in a show of violent disgust at the untrustworthy population unable to recognize economic advancement in favour of quality of life. And he waxed enraged over the protests that refused to dissipate, as people continued to protest even while facing the reality of exposing themselves to physical harm. Erdogan called the protests an attempted coup.
The protests in Turkey keep flaring up, in the street and on the Web. Police arrested activists because they had allegedly sent 'libelous' tweets. It's a sign of the government's contradictory approach to the Internet, which it purports to embrace.

Spiegelonline
Since then, Erdogan has arrested journalists, shut down news sites, mounted thousands of lawsuits against those he feels insufficiently respectful of his august person. Press and Internet freedoms have been tightened. Journalists in their hundreds forced out of work. Cases against thousands of people have been opened by state prosecutors charging them with insulting the president online.
Staff members and supporters of the Zaman newspaper editor-in-chief Ekrem Dumanli shout slogans as he is arrested by plain clothes police and led towards a car.
AP
During the Gezi Park protests, Erdogan characterized Twitter as
"the worst menace to society"
, used by protesters to organize demonstrations against censorship, police brutality and the authoritarianism of their-then Prime Minister, now President-in-perpetuity. Erdogan's reaction to the protests was to become ever more dedicated to democracy by attempting to entirely shut down his critics, going so far as to reach beyond Turkey's borders into Germany to complain about insults to his majesty.
But when a real putsch raised its ugly head, Erdogan suddenly became enamoured of the Internet and what instant outreach to plugged-in Turks could create; a loyalty-based population who could be urged to march right out of their homes into the public squares to confront the putschists. And they did just that. In response to Erdogan's having called a television station through FaceTime's video chat app and urging the population to react to save Turkey and just incidentally Erdogan as well.
Calling on his loyal subjects to flood onto the streets and bridges and squares to guard the airports and to place themselves in direct confrontation with the members of the police and military who were intent on overturning the Justice and Development Party rule, to return secularism long protected by the Turkish military, back to governance. In the process lives were lost, but the people were triumphant. And now they're back at square one, saddled with a president planning to change the constitution to crown himself President with fully executive powers, ad infinitum.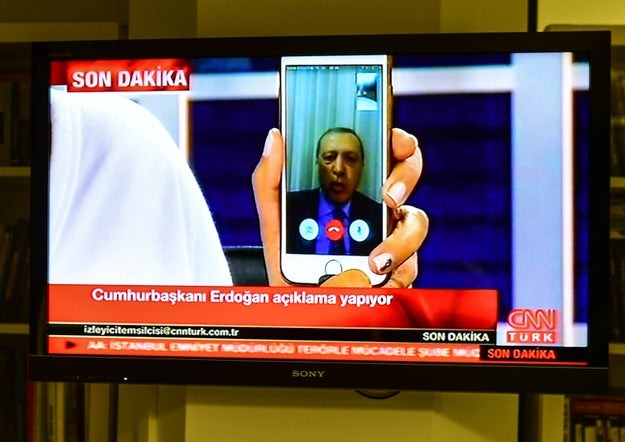 Throngs of Turks responded, contacting friends and relatives as they reached their destinations, to persuade them to come out to join them. Using WhatsApp, Twitter and associated communication tools on social networking they mobilized in their numbers, waving Turkish flags, daring the coup soldiers to thwart their intention to protect their government. No more coups in Turkey, autocratic dominance or not.
The overwhelmed coup plotters and the soldiers were no match for the unifying message that Turks have no more patience for coups, despite that many in opposition decry the direction Erdogan has taken Turkey in, isolated from its neighbours and traditional allies, attacked by the terrorist groups it had initially supported, and back at war with the Kurds because Erdogan decided the peace agreement with the PKK had gone on too long.