Syrian Childen At Work InTurkey
"I want to send Ahmad to school because he doesn't know how to read and write and can't understand the bus signs."




"But I have no choice. He has to work to survive."




Zainab Suleiman, 33, Syrian refugee, Istanbul, Turkey






"I enjoy working, and I don't get treated badly. I've got to take care of my family, and this is the only way to do that."




"I have a really good voice. I'm serious. I sing for my colleagues at work and they love it."




"I want to save everyone from poverty, because I'm poor and I don't want anyone to go through what I've been through."




Ahmad Suleiman, 13, Syrian refugee, Istanbul
At nine years of age Ahmad Suleiman witnessed his father's death, from a wound suffered on a Syrian battlefield. He is now thirteen, and works a 12-hour shift in a textile factory in Istanbul. His work in the squalid factory is one that marks him as the primary earner in his family, living in Turkey, after the family's breadwinner died.
Ahmad is among a million Syrian children who live in Turkey, thousands of those children working in sweatshops producing goods, in factories where their small hands and nimble fingers are set to perform work meant for adults, or out in fields looking as agricultural workers, labour that Turks would prefer be left to others. These are children who never see the interior of classrooms. Their generation has been robbed of an education and their youth, by a vicious sectarian conflict.
Before the civil war began, 99 percent of Syria's children had been enrolled in primary schools; 82 percent in secondary schools. At the present time, close to three million Syrian children cannot attend school. Those children who live in Turkey have experienced a long education gap, growing ever longer, and it is doubtful that they will ever catch up on the educational opportunities that were never available to them as refugees.
Three million Syrians, forced by poverty to remain in Turkey, face bleak prospects for their future. The fig leaf of providing more opportunities for children living in Turkey to attend school was part of the deal reached between the European Union and Turkey in curbing the outflow of illegal migration into Europe, as well as keeping Syrians from drowning in the Aegean Sea. The promised work permits for the parents of children who presumably were meant to be attending school in Turkey doesn't appear to have materialized.
Turkey has spent billions in caring for Syrian refugees, in providing medical care and the right to an education. Despite which over 400,000 children remain unable to attend school since their families struggle to find work that will give them enough that the basic necessities of life can be paid for, according to aid groups. And while work permits were provided by the Turkish government in an effort to halt labour market exploitation to enable parents to earn enough so their children could be sent to school, a mere fraction have gained the right to work under the new regulation.
Turkish employees are reluctant to give contracts to Syrian refugees requiring the employers to pay minimum wage. Ahmad's mother knew nothing about the work permits; clearly that entitlement had not reached her ears, and was not in any event, generally available. Ahmad earns $60 weekly, and that is used to pay the family's $270 monthly rent, a narrow room where Zainab Suleiman lives with their four children in the Tarlabasi low-income neighbourhood of Istanbul.
Ahmad works six days a week buttoning shirts. He has a 30-minute lunch break and two 15-minute tea breaks, spending the 80-cents his mother allots him as an allowance to buy biscuits. Zainab has formulated plans for her family; the two younger children will attend school, and daughter Ayla, 15, is to be married to a 22-year-old Kurdish man whose family has said they will send her to school and give the family financial aid.
"She doesn't know anything yet. But what choice do we have? It's our fate"
, said Mrs. Suleiman. The fate of others is no less dire. Basar Nour, 16, and his brother Mohammed, 15, arrived in Turkey on their own from Aleppo and they work to send money back to their family in Aleppo. They earn a combined income of $250 monthly, sending $200 back home, and sleeping at the factory at night, under benches.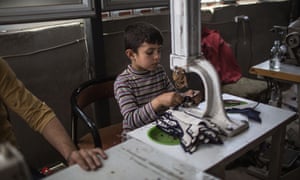 A small boy makes shoes in the factory.
Photograph: Ahmed Deeb
In one neighbourhood representing one of Turkey's textile hubs, there is a workshop bursting with children where Abdul Rahman, 15, who operates a sewing machine, had no idea how much he was being paid, since his wages were sent directly to his family. What other choice do they have? It seems their destiny in life. Perhaps not forever, but there is no way that these children will ever 'make up' for the normal life denied them, let alone the opportunity to be educated.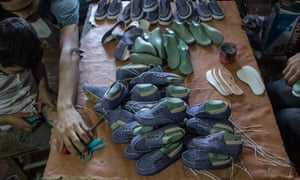 Shoes made in the factory.
Photograph: Ahmed Deeb
Labels: Child Welfare, Conflict, Education, Refugees, Syrians, Turkey