"Against the Forces of Aggression"
"[The Nepalese are] consummate professionals -- fearless warriors with the gift of self-restraint who know the value of human life."




"I can recall countless instances when they would be the first to confront danger, to brave the uncertainty of an explosion or automatic weapons fire. They are without exception model colleagues -- selfless, disciplined, resourceful and intrepid."




Chris Alexander, former Canadian ambassador to Afghanistan, former MP/cabinet minister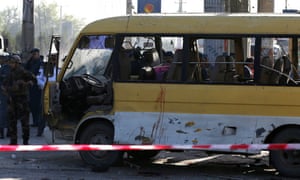 Afghan security forces inspect the damage of a minibus that was hit by a suicide attacker in Kabul.
Photograph: Omar Sobhani/Reuters
The holy Islamic month of Ramadan seems to set off ambitions within violent Islamist groups to distinguish themselves by exacting a horrendous death toll, embellishing their reputations as merciless assassins. To that end, there are constant reports of suicide bombings targeting other Muslims, or deadly lone-wolf jihadist attacks on Western targets, such as the recent one in Orlando.
And in Afghanistan the target was Gurkha soldiers from Nepal whose outstanding characteristics as loyal, courageous and dependable troops whose unquestioned skills and deadly response to conflicts the British historically so highly valued and depended upon. A bus conveying Nepalese soldiers working on contract to stand guard over the Canadian embassy in Afghanistan was targeted by a lone jihadist on foot.
The result was that 14 Nepalese died. Since the Wazir Akbar Khan diplomatic enclave saw the opening of Canada's embassy in 2003, the checkpoints have been guarded along with the entrance and the roads leading to the compound, by Nepalese military men whose professional expertise is also depended upon to guard other embassies in Kabul. These embassies resemble nothing less than fortresses.
The enclave is seen as the most protected, safe area of the capital. Despite which suicide bombers periodically make good their attacks resulting in steep loss of life and countless wounded. It is also where many Afghan government departments are housed and targeted by the Taliban. Always quick to identify themselves as the source of these atrocities, the Taliban spokesman who claimed responsibility justified it as
"against the forces of aggression"
, in Afghanistan.
Nepalese security guards receive treatment at a hospital following a suicide attack in Kabul, Afghanistan, on June 20, 2016.
(Rahmat Gul / AP)
The lone suicide bomber lingered close to a compound where security contractors are housed, to strike the vehicle carrying them at 6:00 a.m. to their destination through morning traffic. Along with the death of those in the bus, others in a market adjacent where the bomb went off were wounded. An attack in mid-April in Kabul was even deadlier, where 64 people died and over 340 wounded.
Hours later another bomb on a motorbike exploded, killing eight civilians and wounding another 18 in a market in a northern province. And on Monday morning yet another Kabul explosion wounded a member of the provincial council along with three of his bodyguards. Little wonder that foreign embassies located in the capital of Afghanistan employ the services of skilled militias known for their courage and reliability.
Skills that bring confidence to those whom they protect, but which were incapable in this particular instance of protecting themselves when they were being conveyed to a destination where they practise their ancient trade while locked into a death trap from which there was no escape as the bomb exploded.
Labels: Afghanistan, Conflict, Taliban