A Mother's Anguish
"No, no, not Shafee!"




"That boy now is not my son. That is not the son I raised."




"My kids were perfect. What suddenly happened?"




Maha Elgizouli, Sudanese immigrant, Britain
"We thought this [his radicalism] was just a phase … the flavour of the month. For me, understanding the images portrayed on websites and even in the news bulletins, deaths mounted by the western powers bombarding people … this ignited the sense of anger, of a drive to right things in their own way."




"But understanding as well that this second generation [of immigrants] suffer from an identity crisis. They're no longer fully educated in their own background and heritage and culture and they are not fully accepted in the new society. Coming from a Muslim family, they are asked: 'What do you know about your religion?' So maybe this is the drive deep into understanding this part of their identity."




"Unfortunately the lenient way of our government here in tackling the radicalisation machinery in the mosques was complacent … So they go there [to the mosques] and they listen to a version of Islam which is synonymous to Isis and al-Qaida and all these radical terrorists. So they have the propensity to [believe] this erroneous version of Islam.




"We tried to handle this in a mild, considerate way, but before we could do anything he [his son] just left."




Rashid Sidahmed ElSheikh, translator, London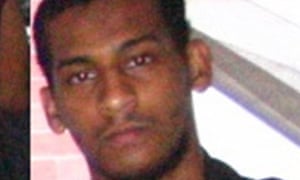 El Shafee Elsheikh.
Photograph: Facebook
Western recruits to Islamist jihad appear to be among the most brutal of the psychopaths attracted to the ideology of violent jihad reflecting the zeal of the 7th Century progenitors of a religion that had so recently been introduced to the Bedouin world of the Middle East. In a landscape of tribal suspicions and incessant territorial wars, this was a religion tailor-made by an Arab who saw an opportunity to unite disparate tribes under a flag of a zealot-like god demanding total obedience.
That surrender to the demands of an powerful spirit promising to lead a war-obsessed population to widespread conquest motivated followers to ally themselves with a superior winning philosophy, fealty to a religion that would represent all things to all people, a religion that demanded constant obeisance through five-time-daily reminders in calls to prayer to the divine interlocutor, and a faith requiring never-ending conquest through the scimitar and the Shahada.
To state the obvious in complete surrender with the pledge of acknowledgement that "There is no god but Allah and Mohammad is his messenger", pledges the speaker to a lifelong devotion of Islam that will henceforth inform every minute of every day in a social, political, religious guidance that eschews individuality and human rights other than the obligation to venerate Allah and pay everlasting respects to his prophet.
That call, the purity of an Islamist functionality encompassing all that matters to the faithful, has a powerful appeal to the human spirit of tribal allegiance. The social community of the West simply is not invested with the same degree of sacrifice to an overpowering and to many, meaningful connection. The depth of the appeal does owe something to the promises meted out to Muslim men who see great appeal in the culture of patriarchy and misogyny.
And one of the assurances given recruits to the Islamic State of Iraq and the Levant is that of the availability of women content to establish themselves as household slaves, and the opportunity to acquire as many wives as a single man can accommodate. El Shafee Elsheikh whose family arrived in Britain as Sudanese refugees has only two wives, but he is young at 27, and the opportunity exists for him to acquire more.
He is thought of as being among a handful of British-born recruits who had volunteered their services as ISIL 'jailers' whose task it was to torture and terrorize and on certain occasions, stage beheading videos for wide dissemination as a recruiting tool, one that attracted the attention of would-be jihadis, and caused Western sensibilities to recoil in horror at the atrocious waste of human life, but which the British-accented killers revelled in.
According to former hostages who managed to live and escape, the 'Londoners' also referred to as 'Beatles', repeatedly beat, water-boarded and staged mock executions in their zeal to adequately terrorize prisoners. The most notorious of these was "Jihadi John", later identified as Mohammed Emwazi who had beheaded American, Japanese and British hostages, and was himself killed in an American drone strike.
As cruel as Emwazi had been, using a dull knife to saw off the head of one of the hostages, El Shafee Elsheikh, nicknamed Ringo, was thought to represent the most vicious of the four, and the leader of the group. A former U.S. counterterrorism official identified him. According to his family and friends some of whom he remains in contact with, he is alive and lives in Syria with two wives and a number of children.
His shocked mother, Maha Elgizouli, describes her son as a "regular Londoner", who championed the Queens Park Rangers soccer team and who worked diligently as a mechanic. He had married an Ethiopian woman who was living in Canada when he was 21, she said. When she was unable to move to London to live with him he became frustrated, and left for Syria where he married a Syrian woman and later welcomed his Ethiopian wife when she arrived in Syria.
It seems obvious that Islamic State in Syria fulfills his needs and as such has his loyalty. He can procreate at leisure while enjoying the opportunity commit ferocious atrocities and to kill at random. What more could any enterprising young man with an enthusiastic penchant for torture and slaughter whose pursuit entitles him to Paradise on Earth and in Heaven possibly wish for?
Labels: Britain, Immigration, Islamic State, Islamism, Jihad