Another Martyr, Another Atrocity
"To die as a martyr for Al-Aqsa [Mosque] gives the explosive device more and more force."
"The intifada is not an intifada if the bus roof doesn't fly off."

Hamas channel Al-Aqsa TV -- 2011




"[Some of the injuries are in line with injuries from past terrorist bombings in Jerusalem] ... There are penetration wounds. We saw in imaging and we pulled out nails and nuts."

Avraham Rivkind, trauma specialist, Hadassah Ein Karem hospital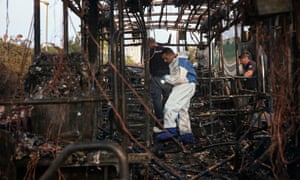 A police forensics officer examines the wreckage of a number 12 Egged bus gutted during a suspected explosion in Jerusalem on Monday. Photograph: Peter Beaumont for The Guardian
In 2011 the Hamas terrorist group that rules Gaza incited Palestinians to take on suicide bomb attacks against Israelis, recommending in particular bombs targeting buses. Posting a music video online, Hamas gave generous praise to Palestinians prepared to target Israeli civilians. A Hamas activist was shown on a six-minute clip preparing for a suicide attack inside Israel. The terrorist boards a bus that looks like a green-and-white Egged bus, with him two men ostensibly outfitted clumsily as Orthodox Jews.
It has taken a few years for that incitement to percolate through the minds of prospective heroes, but finally the act took place and Hamas is full of exhilarating praise for the bold stroke of genius that has left 21 people wounded and two buses destroyed.
"We're looking into where the explosive came from, who placed it, how he got to the bus. We had no specific warning about this explosive. We are fully prepared ahead of the holidays and ready for any eventuality"
, said Jerusalem Police Commissioner Yoram Halevy.
An explosive device was planted in the rear of an Egged bus stopped on the major thoroughfare at the southern end of Jerusalem. That bus was empty of passengers. When the explosion took place, it set fire to another bus following closely behind and it was on that bus that passengers got the full brunt of the blast, along with a car that followed and was also hit, according to Israeli Police. An immediate investigation posited a suicide bomber and that he was among the wounded.
If so he will live to see another day, and he will be fully aware of his hero status, and the fact that the Palestinian Authority will ensure that he and his family receive a hero's reward. The victims, being treated at Hadassah Medical Center, had burns on their upper bodies, as well as wounds from nails and ball bearings packed into the explosive device. The head of the hospital's trauma unit remarked that the wounds bore resemblance to previous Jerusalem terror attacks.
Of the wounded individual who has been tentatively identified as the bomber, he is said to be in critical condition. Police feel that this critically wounded man likely was the terrorist who planted the bomb, and very possibly had detonated it prematurely. No identifying documents were found in his possession, and no one has come to enquire over his well-being, giving impetus to suspicions over his intent and his identity.
Labels: Conflict, Hamas, Israel, Palestinians, Terrorism