State Entitlements of Mass Murderers
"It is a big responsibility a state takes upon it when it chooses not to use capital punishment."




"This case is not, as many believe, a case being run in order to get Breivik back into the limelight. This is a case to determine the conditions for the remainder of his imprisonment."




Oystein Storrvik, lawyer for Anders Behring Breivik, mass murderer





"He murdered our children and now he is suing the state for the terms of his imprisonment. But we understand that the trial is necessary."




"What I fear most today is that he gets a venue to spread his extreme right message, that is what I hope to avoid."




"He is building a network, so that is what we fear. I hope he does not win the case."




Lisbeth Kristine Royneland, 52, Oslo, Norway





"In 2012, I had to amass power to confront the Breivik I had imagined in my head, the monster Breivik. But what I saw was just the man Breivik, small and weak. He is still just the man Breivik, only now older and with less hair."




"I think it's important that we give him this trial. It is a victory in itself for us, as a society, not for him ... We have to keep in mind, though, that even though he is just one man, he represents an idea that we need to combat."




Bjorn Ihler, 24, Utoya massacre survivor
Innocent victims: This picture was taken 24 hours before Anders Breivik launched a shooting rampage on Utoya island. At least nine of the youngsters shown here were killed.
In July of 2011 a car bombing at a government building in downtown Oslo was responsible for the deaths of eight people. That bomb was deliberately set where it was placed by Norwegian citizen Anders Breivik, to deliver a message of his keen displeasure on immigration that allowed Norway to accept a community of Muslim immigrants whose presence disturbed this man, witnessing what he imagined to be his society in turmoil. The turmoil was of his making.
His day wasn't quite finished. He made his way to the Island of Utoya, where a Norwegian ruling political Labour Party youth camp had been established. He meant to strike a blow where it would most hurt, at the children of his countrymen who supported a government whose policies he deplored with a vengeance. His vengeance was to shoot to death youth of the Labour Party, and in a prolonged spree of dispatching people to death, he slaughtered 69 people, mostly young Norwegians.
Trail of carnage: Breivik criss-crossed Utoya island during his rampage, before he surrendered to police
He was placed on trial, and found guilty of a mass atrocity. At no time has he been seen to feel regret for the carnage he inflicted on families, on communities, on the country. But this is a country that spurns capital punishment in favour of rehabilitation. In the process of imprisonment the state believes that criminals, even such as an unrepentant killer of dozens of young people must be treated considerately and given creature comforts for their troubles.
Accordingly, he has been incarcerated at Skien, a high-security prison located in southern Norway. He does not exist in a single cell, but has at his disposal a suite of three rooms with windows. He has exercise equipment including a treadmill, a refrigerator, a DVD player, a Sony PlayStation, a desk and a typewriter. And he has been taking courses in distance-learning at University of Oslo. He is allowed out for air for one hour daily.
But clearly, all his 'human rights' needs have not been recognized and he has taken the step of complaining repeatedly, once threatening a hunger strike. He has more latterly sued the government, that under the European Convention of Human Rights, long-term solitary confinement represents torture. Under most circumstances that is certainly true; in his own, with all the embellishments to his confinement, it is not.
The degrading treatment meted out to him, in the form of nude body searches is a minor element of his complaint; what takes centre stage is restraint on his communication with whomever he wishes. Prison officials have confiscated hundreds of letters from this man addressed to other imprisoned white supremacists and Nazi terrorists. Presumably, he wishes to commune with them, to inspire them in their shared interests.
The restraint exercised, and the calm understanding of process, by victims of his murderous rampage surely could only happen in Norway. The general recognition appears to be resignation in the name of human rights, that a mass murderer has his rights and the right to kid-glove treatment in the hope that he will one day mend his hateful ideological spite of murderous intent.
Possibly there is some mysterious ingredient, a chemical in the potable water available throughout Norway that predisposes Norwegians to agree to such a flawed social contract. It is beyond debatable that his man with his incendiary racism and his willingness to commit the unthinkable in depriving so many people of their futures could ever redeem himself, even if he were so disposed.
What value his continued existence represents to anyone is debatable. His mother's views might be interesting in this context.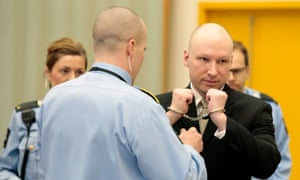 Anders Behring Breivik has his handcuffs removed inside the courtroom at Skien prison.
Photograph: Lise Aserud/AFP/Getty Images
Labels: Atrocity, Justice, Norway, Social Dysfunction