Belgian Public Confidence in Police?
It was not keen-eyed police investigators searching the area after the Brussels bombing on the 22nd of March who recovered key evidence, but according to the
Dernier Heure
newspaper, a cleaning team fom Bruxelles Proprete, who found a computer thrown in the trash, and immediately contacted officers from the Montgomery police detachment in Brussels. Within the computer a peculiar type of last testament was discovered; Ibrahim el-Bakraoui, complaining that he is being hunted and fears imprisonment.
He did indeed have legitimate fears of imprisonment for he went out of his way, along with his brother Khalid, to earn prime place in a manhunt. In any event, both Khalid and Ibrahim el-Bakraoui and Najim Laachraoui as well succeeded in their plan to become martyrs, in the process taking along with their lost lives, another 32 of innocent people who just happened to be in the wrong place at the right time.
Ten people died at the Brussels metro station targeted by Khalid, and another 22 at the Brussels airport where Ibrahim and Najim performed their act of supreme obedient sacrifice to Islam.
Belgian police leave after an investigation in a house in Brussels.
Photo: AP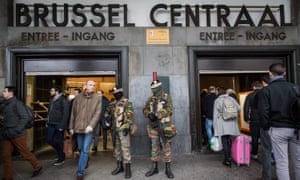 Soldiers stand guard at the entrance of Brussels' central station on Wednesday.
Photograph: Aurore Belot/AFP/Getty Images
Labels: Atrocity, Belgium, Islamic State, Jihad