Palestinians: Pathologically Self-Destructive Psychosis
"The Popular Front for the Liberation of Palestine salutes and mourns the martyr, Comrade Omar Nayef Zayed, the former Palestinian political prisoner and lifelong struggler for the freedom of Palestine, assassinated this morning in the Palestinian embassy in Sofia, Bulgaria."




"Comrade Omar Nayef Zayed had taken refuge in the Palestinian embassy after he was pursued by Zionist and Bulgarian forces for extradition 25 years after he escaped from Zionist prisons in 1990 following a 40-day hunger strike. He had been imprisoned for an operation targeting illegal Zionist settlers in Jerusalem, along with fellow strugglers including his brother, and including Samer Mahroum, recently re-imprisoned by Zionist forces following his earlier release."






"I told all sides that our prosecution had received a request for extradition and now a court was to decide whether he will be extradited or not."




Bulgarian Prime Minister Boiko Borisov
Omar Nayef Zayed, PLFP member, deceased, 1986 convicted killer
The Palestinian terrorist group known as the Popular Front for the Liberation of Palestine is mourning one of their own. Infamously shot to death in the back of the head by Zionists. A claim that Ahmed al-Madun, the Palestinian Authority ambassador in Sofia, in view of Bulgarian officials validating that no gunshot wounds were found on the corpse, did not himself claim. Emphasizing the devilish danger Israel poses to PLFP heroes who kill unarmed civilians, al-Masbuh did, however, characterized Zayed's death as a murder with none other to blame than
"continuing persecution by Israel."
This predictable routine was followed by another predictable routine:
"This is not an Israeli issue"
, commented Emmanuel Nahshon, spokesman for the Israeli Foreign Ministry. Now, however, Bulgaria is relieved of the need to make the decision of which Mr. Borisov spoke. The wanted killer is himself killed by some unnamed agency, thus eliminating the necessity for Bulgaria to consider Israel's formal request for extradition to be returned to an Israeli prison to continue serving his sentence for murder.
A prison sentence he escaped when, due to effects from one of the Palestinians' favourite ploys while in prison, a hunger strike, he had been sent to a hospital from which he made his escape, ending up in Bulgaria, where he has lived for decades with his Bulgarian wife and their children. Upon hearing, however, that Israel has not forgotten him and his murderous crime against a young Jewish Israeli who lost his life to Palestinian derangement, Omar Nayef Zayed chose to flee his home and seek sanctuary at the Palestinian embassy.
Where the 52-year-old lived for several months awaiting the outcome of the Israeli request to Bulgaria. His life sentence for the murder of a Jewish student in Jerusalem in 1986 was never served to completion. He now serves at his maker's pleasure. It is yet to be determined whether he fell, or jumped, or possibly was helped to fall from the building.
"He was still breathing when he was found. We called for an ambulance and he died while the medics were trying to treat him. We are working with the Bulgarian authorities on an investigation which will reveal everything later."




"Omar is one of the Palestinian fighters who led the struggle against the occupation and fulfilled his duty to his land and his people."




Palestinian ambassador, Ahmad al-Madbuh
"Since the first day, the embassy was not happy and pushed him to leave. They didn't want him to meet us. They turned away lawyers we sent. The whole situation was complicated. The ambassador warned him that if he didn't leave the embassy, something might happen to him."
"The last thing he said was there was something strange going on in the embassy. He was hearing things he could not explain. He was feeling it was becoming more and more dangerous for him."
Mohammed Khatib, member, Samidoun Palestinian Prisoner Solidarity Network, Brussels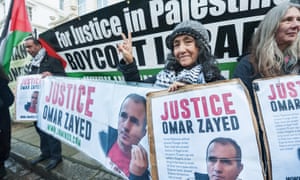 A protest in London in January against Bulgaria extraditing Omar Nayef Zayed to Israel.
Photograph: Peter Marshall/Demotix/Corbis
And lest we forget, strange things do happen at the Palestinian 'embassies'. Recall perhaps in 2014 what happened when the Palestinian ambassador newly appointed to the Czech Republic opened a safe that had been locked for 30 years, and then died in the ensuing explosives blast he inadvertently set off...? At that time Palestinian Foreign Minister Rial Maliki had said no foul play was suspected"
"The ambassador decided to open it [the safe]. He opened it and asked his wife to bring a paper and a pen to write down the contents of the safe."
"She left him to bring (the) pen and paper. During that time, she heard the sound of an explosion."
Someone failed to recognize, it might appear, that it was an Israeli safe, set to go off 30 years into the future? Diabolical!
Labels: Conflict, Israel, Justice, Palestinians