Implausible? Deny, Deny, Deny!
"We categorically do not accept such statements, the more so as every time those making these statements are unable to prove their unfounded accusations in any way."




Vladimir Putin spokesman





"This appears to be a deliberate attack on a health structure, and we condemn this attack in the strongest possible terms."




"The destruction of the hospital leaves the local population of around 40,000 people without access to medical services in an active zone of conflict."




Massimiliano Rebaudengo, MSF head of mission
A handout image dated 15 February 2016, provided by the MÈdecins Sans FrontiËres (MSF) or Doctors Without Borders organization, showing destruction and rubble at an MSF-supported hospital in Idlib province in northern Syria, largely destroyed in an attack on early 15 February 2016.
"We want a ground operation. If there is a consensus, Turkey will take part. Without a ground operation, it is impossible to stop this war."
"Turkey is not going to have a unilateral ground operation ... We are discussing this with allies."
Turkish official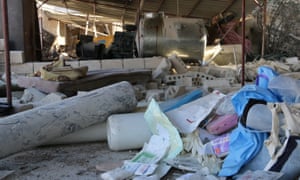 Médecins Sans Frontières said seven people were killed when a facility it supports in Maaret al-Numan, Idlib province, was hit four times in two separate raids. Photograph: Anadolu Agency/Getty Images
Not for the first time, but each time an atrocity, particularly since hospitals and schools appear to have been deliberately targeted, Syrian Sunnis are once again counting their dead. In the hospitals everyone is treated; civilians and fighters as well who sustain wounds while battling government forces. So it seems that the hospitals are considered fair targets by the Syrian military and their Russian helpers since odds are fairly good that among those killed by bombs there might be some rebel fighters, though the nomenclature "terrorists" suits Bashar al Assad much better.
As for the schools, when they are targets, children die. But it seems they are targeted with the excuse that rebel forces occasionally use public buildings to store weapons, making them, to the regime and the Russian pilots, legitimate targets. And as those 'legitimate targets' -- viewed by the international community as beyond the pale for any force to target, constituting war crimes in a sane world -- create another panic movement of Syrian refugees fleeing the bloody conflict, Vladimir Putin likely has some satisfaction.
The European Union has been a source of frustrating sanctions in response to Moscow's decision to annex Crimea and to agitate among Russian-Speaking Ukrainian separatists in eastern Ukraine. That the EU has been thrown into a state of disarray as its members attempt fruitlessly to manage the flow of countless refugees seeking haven from conflict and oppression, might be viewed as a kind of pay-back from the man who resents European criticism and interference in Russia's affairs. Russia, of course, is exempt from giving haven to any refugees, it just creates them.
Now, Medecins Sans Frontiers is accusing Russia of deliberate targeting of a hospital under its aegis in the town of Maarat al-Numan, a hospital which has been a target previously, and which MSF invested in rebuilding, so the question is what message is Moscow delivering to MSF? Two strikes of two missiles each hit the hospital, killing seven staff and patients, including a child. The hospital was completely levelled, with eight staff missing, presumed dead. The message appears to be that Moscow is impervious to criticism.
In another town a maternity unit near the Turkish border was hit. An estimated 50 people in all wee killed in the bombings. Babies in incubators lined up against the wall of a ward came out unscathed, despite the blast that destroyed much of the hospital. Children were killed in one of the schools near Aleppo that became a target. And curiously, although Russia is adamant there is no evidence, nothing to prove that its planes were involved in the bombing, a Russian missile was picked up by rescue workers, near the Azaz hospital.
"If Russia continues behaving like a terrorist organization and forcing civilians to flee, we will deliver an extremely decisive response"
, blustered Turkish Prime Minister Ahmet Davutoglu. But better days are ahead, since Russia's promotion of a ceasefire to take place in several days' time. The Syrian regime is exempt from that ceasefire, and come to think of it, so is Russia, since they both must continue to battle "terrorists", otherwise known as rebels who are expected to lay down their arms in recognition of the ceasefire.
"It would be helpful if there was an area there in which none of the warring parties carry out attacks by air -- so a type of no-fly zone"
, hopefully suggested German Chancellor Angela Merkel, agreeing with Turkey that a no-fly zone should be imposed in Syria in protection of civilians. Of course, Turkey's view is that such a zone would be patrolled by NATO forces, pushing the Kurds out of proximity where they have infuriatingly established themselves next to Turkey's border.
Labels: Civil War, Russia, Syria, War Crimes