Justification for the Offensive Actions of Self-Defence
"We have to be in for the long haul. There's no instant solution. But what we do know is that we cannot just withdraw, allow [ISIL] to spread the way it was spreading a year ago and use this as a staging area for international terrorist attacks against the world, including against us."




"...I don't think our allies are going to say we could all pull out. That would be an absolute catastrophe."




"[A military pullout would lead to more refugees creating a] radical escalation and a security threat to our own countries. We cannot tolerate that."




"There's going to have to be a more effective ground force. And I don't think there's any desire or willingness for that to come from our country."




"We can admit thousands, tens of thousands, hundreds of thousands more refugees and we are still going to see those kinds of images."




"I've already announced that we're increasing that number [of refugees by 10,000] and we are working to expedite this. We're obviously very pleased Canadians are seized with this issue and Canadians want us to respond [with refugee intake]. That's what we're doing."




"Let me also assure Canadians that we'll make sure we have the processes in place so that we make sure we help the most vulnerable first. This is not first come, first serve. We make sure we know who everybody is. We help those who are most vulnerable. Let me also assure Canadians that when we're bringing people from a war zone, an area controlled by terrorists, we'll make sure Canadian security is properly protected."




Canadian Prime Minister Stephen Harper
Handout/U.S. Air Force/Files
Canadian CF-18 Hornets depart after refuelling with a U.S. KC-135 Stratotanker in 2014, over Iraq. CF-18s struck an ISIL target in Syria for the first time on April 8, 2015.
Across the world, people have been galvanized by the horror of seeing photographs of a tiny boy, head down in the surf of a Turkish beach. That child's death, along with that of his brother and his mother, when their inflatable dinghy was swamped and overturned as they attempted to make the short passage from Turkey to a Greek island on the Adriatic has fully brought the horror of civil war in Syria to the shocked minds of people now agitating for their governments to absorb Syrian refugees.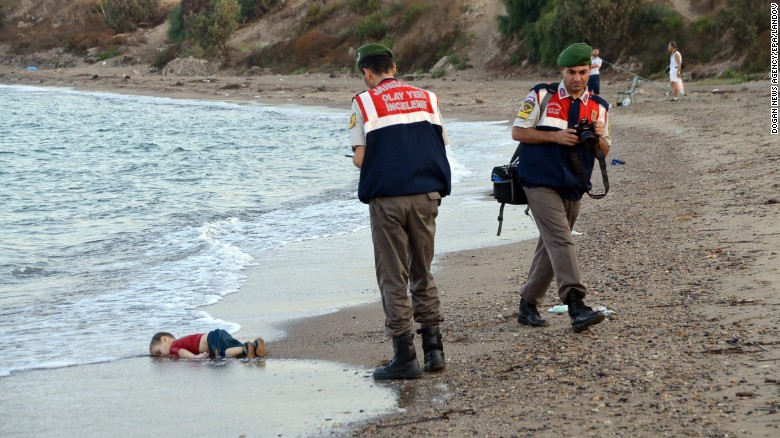 Wednesday, September 2, authorities stand near Aylan Kurdi's lifeless body.
Which action alone, as Canada's Prime Minister has stated, will do nothing to see an abatement in the vicious attacks that Syria's President Bashar al-Assad is inflicting on his Sunni Syrian civilians. The efforts of the U.S.-led air coalition to diminish the advancing strength of the Islamic State of Iraq and the Levant have focused on the Islamist Sunni jihadists, but have done nothing whatever to address the malevolent violence of the Islamist Shiite Alawite regime of Syria's President al-Assad.
Both the militias of ISIL and the Syrian military and their Hezbollah and Shiite death squad militias have preyed on Syrians to the extent that seven million are internally displaced and four million have become refugees flooding into Turkey, Lebanon and Jordan. The entire Middle East, Africa and South Asia Islamic communities are in disarray, under attack by Islamist terrorist groups, creating the largest exodus of frantic refugees since World War II.
And the Islamic world that has seen the disintegration of peaceful relations between the majority Sunni and minority Shiite sects of Islam stands by as refugees exit their places of origin to find haven in Europe. Europe has already absorbed millions of Muslims through immigration, people leaving their countries of origin to find a better future in countries of the West where democracy assures them a place of equality, and where they have learned entitlement to press for special rights for Muslims, overriding Western laws and cultural norms.
The crisis in Syria merely points out the universal crisis within the world of Islam as Muslims attack Muslims, as tribal and ethnic and sectarian hatreds are sparked and lead to mass bloodshed. The oil-rich kingdoms and sheikdoms of the Persian Gulf have no wish to open their borders to the flotsam of the Muslim world, nor do they unfasten their purse strings to generously aid the afflicted, preferring by far that Europe look after the unseemly affair, while they themselves get on with funding and arming their sect's terrorist militias as proxy wars consume their attention.
Britain has embarked on a new initiative for that country, tasking British forces with the use of lethal drones to strike three Islamic State of Iraq and the Levant fighters, two of whom were Britons, fighting in Syria.
"There was a terrorist directing murder on our streets and no other means to stop them. British nationals based in Syria who were involved in actively recruiting ISIL sympathizers and seeking to ochestrate specific and barbaric attacks against the West, including directing a number of planned terrorist attacks right here in Britain, such as plots to attack high-profile public commemorations, including those taking place this summer"
, Prime Minister David Cameron revealed in Parliament.
The attack, he contended, was justified legally since British nationals Reyaad Khan and Ruhul Amin, killed alongside another ISIL militant, were plotting lethal attacks against Britain. And it was decided that no other means existed whereby they could be eliminated before embarking on doing great harm within Britain. Britain's intrinsic right of self-defence was invoked for the deadly Royal Air Force strike that took place on August 21 on a car in Raqqa, Syria, which had become an ISIL stronghold.
Labels: Britain, Canada, Conflict, Islamic State, Refugees, Syria