Harrying Harper
"The internal economy committee will confirm that Senator Duffy has been withdrawn from the Deloitte review."




"It will assure him that his expenses are fully in order to date."




"As his apparent ineligibility for the housing allowance stems from his time on the road on behalf of the party, there will be an arrangement to keep him whole on the repayment."




Janice Payne, lawyer for Mike Duffy
Justin Tang,The Canadian Press
Former Conservative senator Mike Duffy arrives at the courthouse in Ottawa on Wednesday, Aug. 19, 2015. Duffy is facing 31 charges, including fraud, breach of trust and bribery.
"If someone thinks a crime has occurred, can we have an internal agreement not to refer it to the RCMP? I think that would be a scandal, no?"




"I have some vague recollection from law school about it being improper for a lawyer to seek civil advantage in connection with a promise to refer or to not refer a suspected criminal matter to the authorities."




Nigel Wright, former chief of staff to Prime Minister Stephen Harper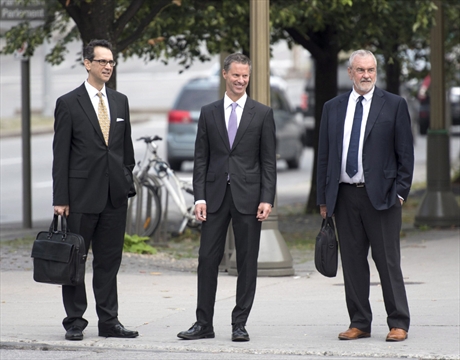 Justin Tang,The Canadian Press
Nigel Wright, former chief of staff to Prime Minister Stephen Harper, is flanked by lawyers Peter Mantas (left) and Pat McCann as he arrives at the courthouse in Ottawa on Wednesday, Aug. 19, 2015.
It's election time in Canada. The current government-leading Conservatives are campaigning on their past record of managing the affairs of the country; by and large it's been a very good record. The opposition parties are busy shoving each other aside, and shovelling spending priorities at Canadian voters, with a special emphasis on the currently favoured 'middle class'. And the news media are falling all over themselves harrying the prime minister.
It is not only the opposition parties, the Liberals, NDP, Greens, that are busy painting the Conservative-led government as spent and ready to be ushered out of office, that their record has been less than sterling and the alternative parties could do far better for the country, but the news media as a whole as well. They represent a powerful, unofficial opposition, and they've made it official; they're on the war path.
Journalism vengeance toward a prime minister whose distaste for the media has been made abundantly evident over the last ten years in his unavailability for scrums or to respond to the queries and querulous complaints of the media whose coverage of a Conservative government is guaranteed to be slanted, but which hates to be slighted nonetheless.
So who is at trial here in the affair of the Senate's Mike Duffy, a man who has given new meaning to the 'dis' linked with honourable. His petty avaricious greed -- while not entirely illegal according to the loose rules of conduct in the Senate which for some strange reason seemed to feel that their members really are honourable, and would never dream of charging taxpayers unless they were entitled to by fact and reality -- has scandalized the capital.
Outside Ottawa, it's a yawn-fest. Duffy couldn't wait to charge for per diems, and for the cost of running his long-time residence in Ottawa, claiming it under Senate rules to be his secondary residence, his primary one a not-year-round-season cottage in his native PEI, which he was purportedly to represent in the Senate. So the trial will be costing taxpayers millions, but the leader of the NDP furiously accuses the Prime Minister of a cover-up.
This, from Thomas Mulcair, who is never questioned by the media about his party's illegal millions of taxfunded spending meant for Parliament Hill, but extended to improper satellite offices in Montreal. Nor is there mention made of the conviction of Liberal Senator Raymond Lavigne for fraud, nor the same unethical expense claims made by former Liberal Senator Mac Harb.
Meanwhile, the hugely entitled Mike Duffy whose bumptiously-accusing lawyer takes great pains to accuse all and sundry of railroading his naively innocent client into accepting a 'bribe' of $90,000 as a personal cheque from Nigel Wright to pay off his taxpayer-funded debt, plays to the media which laps up his performance, while mercilessly and endlessly grilling people like Nigel Wright whose ethical compass has never been corrupted as the inestimable Duffy's has.
The free-for-all hoping to trash Prime Minister Harper's reputation does no one any credit, least of all the journalists enjoying what they believe to be a man being served their version of revenge, cold on a salver comprised of newspaper headlines. The goal? To trash any aspirations Mr. Harper may have of challenging for the longest-reigning prime minister in Canada's history. On his record.
Labels: Canada, Elections, News Media, Prime Minister Stephen Harper, Senate of Canada