Drought and Wildfires
"They [evacuees] are just starting to roll into the city now."




"It's probably a terrible wind for fighting forest fires but it is blowing smoke away from the [Cold Lake] area -- so visibility and air quality will be improved today but I think the fire will be getting bigger with these kinds of winds."




Craig Copeland, Cold Lake Alberta mayor
"Walking downtown to work this morning I just keep thinking what if this all went to flames? What would we do then? And I keep thinking about what it was like hundreds of years ago for people, when life was much less certain, and safe. When people were threatened by things that were bigger than them."




Kristin Zerbin, Vancouver





"It is spooky. Because no one is used to this, and no one can remember something like this happening before. We have a fire season in British Columbia, obviously, but it happens in other places, not at your doorstep."




"It is like the zombie apocalypse. The sun looks like another planet. It makes you think about the end of time."




"Everybody is talking, but they only want to talk about one subject. All people want to talk about is the smoke."




Emily Murgatroyd, Tofino, northern tip Vancouver Island
Last year at this time there were 187 fires that broke out in Saskatchewan. This year that number is 575 wildfires. In Montreal Lake, Saskatchewan, 40 homes were burned:
"We lost our battle with Mother Nature"
, Chief Ed Henderson of Montreal Lake Cree Nation said. One percent of the population of the Province of Saskatchewan has had to take refuge from wildfires. About 3,000 people are taking shelter in hastily organized shelters.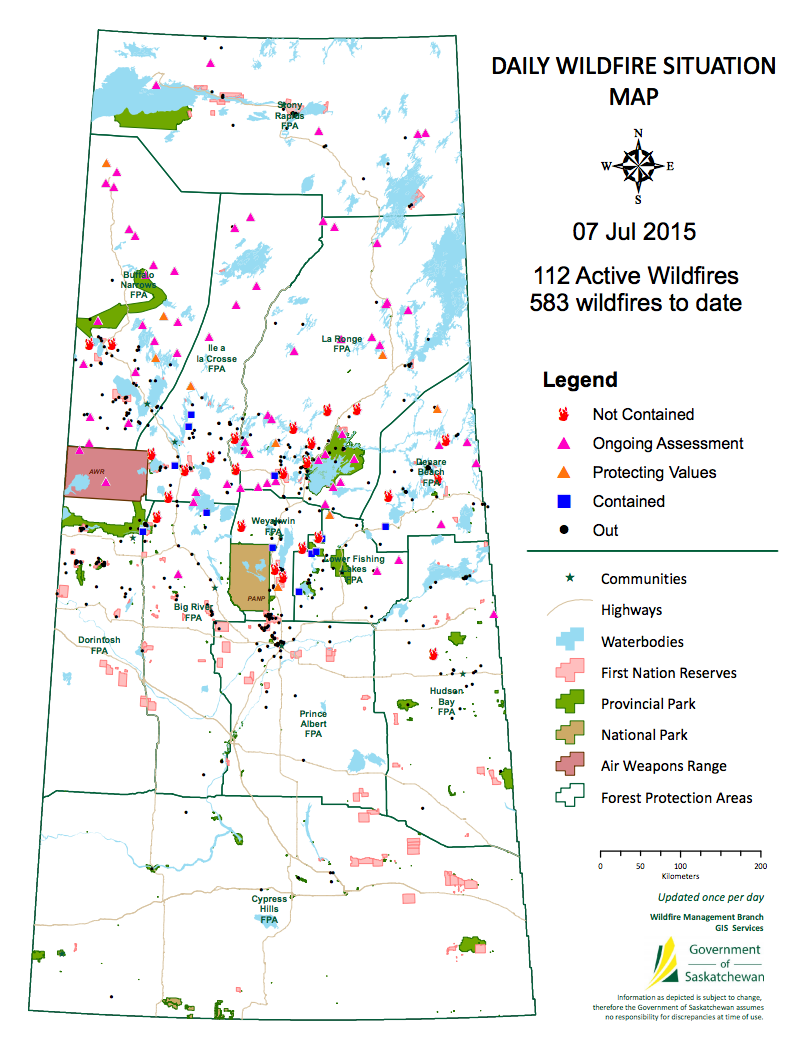 Every fifty minutes the eruption of new fires are taking place in British Columbia. From across the continent, 120 firefighters have been streaming into Western Canada to help fight the fires. Canadian military personnel have undergone a brief training and are being assigned to help protect communities.
In just a two-hour period on Sunday, 60 smaller fires flared up in Surrey, B.C. The slightest spark now can start a brush fire in the hot and dry conditions being experienced there this year. In Vancouver, people are swamped with the smoke from forest fires.
Fifty communities in Saskatchewan have become ghost towns, emptied of their population, representing the largest single movement of people since the Canadian Pacific Railroad was built and the largest evacuation the Red Cross in Canada has ever seen. Gymnasiums and recreation centres across Saskatchewan and Northern Alberta have sprouted cots. Evacuated residents have been sent to Saskatoon, Regina, Prince Albert, and Cold Lake, Alberta.
Lightning and careless campfires are held responsible for the eruption of most of the fires sweeping through Western Canada. But officials soon understood that they were also dealing with the work of arsonists. Six fires near the community of Hall Lake were all deliberately set. The RCMP is attempting to track down the unknown arsonist.
"It's very disappointing that someone would neglect all of what was going on and cause extra impact for us"
, commented commissioner of emergency management, Duane McKay.
Labels: Canada, Environment, Natural Disasters