Swatting Moles
"You know people will make a way - they will dig under the fence."




"The ferries became too difficult so now they are trying the trains. People will swim if that's too difficult."




Uhrad, 30, Eritrean accountant, Calais migrant
Migrants camp in squalid conditions on a site dubbed 'The Jungle II' in Calais (PA)
"It's like trying to swat moles. All we can do is take them out of the terminal area and then leave them there. And then five minutes later they can be back inside again."




Claude Verri, UNSA police union





"Calais is suffocating The tourists have stopped coming here because all they see on the telly is stories about migrants and they are afraid to come."




"The government is incompetent. When migrant camps build up in Paris they move them on. But when they're here in Calais, they don't give a damn."




Gilles Duvauchelle, cafe owner, Calais, France
Long queues formed on French roads after striking workers blocked access to the harbour with burning tyres

(AFP/Getty)
It began with a slow and steady buildup. First migrants in their hundreds, then a swelling of newly arriving men, and women with children, becoming a desperate horde in the tens of thousands. All hoping that by some miracle of mind-over-matter their search for haven and a future will be over. They will have arrived at a port that will open arms to receive them, offer them a new start in life and the future will be returned to them.
A perfectly deplorable storm that was inevitable has blown into Europe, enveloping Italy and Spain, France and Britain, with migrants hoping against hope that they will manage, somehow, to find themselves in ... Germany ... where they will find employment and live satisfactorily ever after. Germany feels otherwise; Italy and Spain are exhausted with coping, and Britain and France will soon be at one another's throats.
A sign near the M20 in Kent directed at David Cameron

(Neil Hall/Reuters)
In recent days Calais has been transformed from a tourism port stop to a large sprawling jungle of tents and scheming migrants hoping to outwit and outrun the security forces arraigned against their completing their self-appointed mission of jumping the barriers that are restraining them from freedom and a new life they imagine will be theirs, sooner they hope, than much later.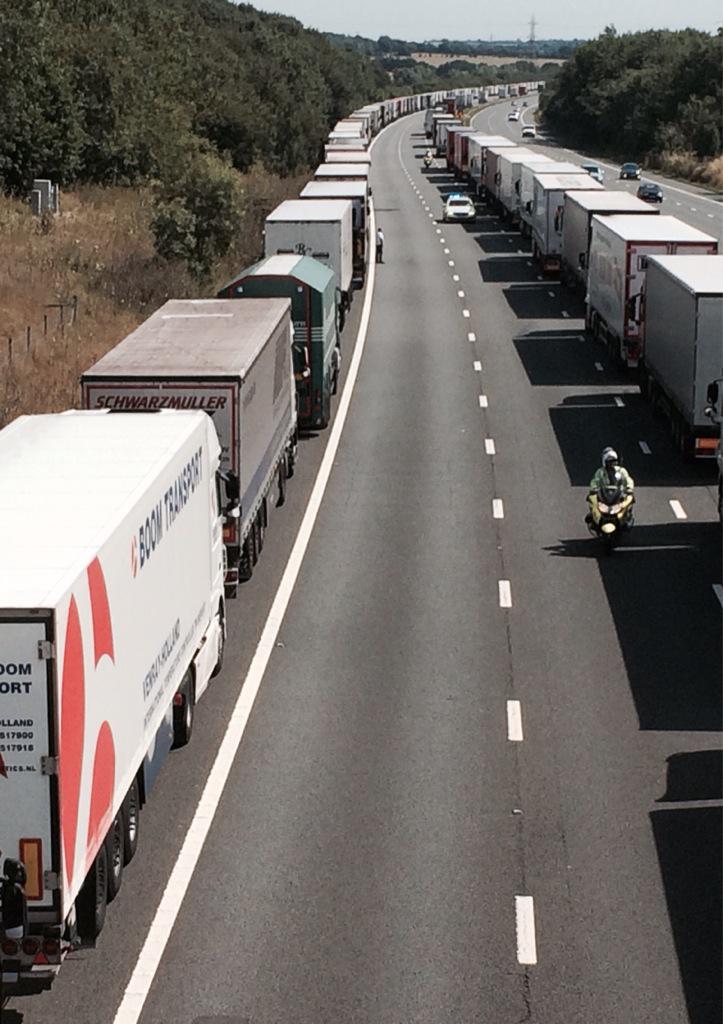 Signs that read:
"Beware -- Do Not Add To Recent Deaths -- Danger of Death"
, do not deter the determined. After all, many of those who have reached this point are already escaping death. Reading in English, French, Arabic and a handful of other languages, posted on the barbed wire fence around the Channel Tunnel terminal, it is just yet another hurdle in their massive task of transporting themselves by any possible means onward into the heart of West Europe.
Each night several thousand migrants storm through the barricades attempting to keep them from penetrating Europe. More secure fencing is about to be installed at Britain's cost in a few days' time. Knowing that things will only become more difficult, the impulse to continue the attempts while they yet may keeps events churning. Calmer Mediterranean conditions have enabled more migrants to reach Europe from Libya and Egypt
French riot police watch from a distance, prepared to move expeditiously whenever migrants are seen clambering over or cutting gaps through the double fence.
"I don't care if they put a fire there, I'll still get over it"
, 28-year-old Darood from Ethiopia states; he has nothing to lose since most of his family is now dead, he says. He failed to burst through yesterday, but today's another day, another try.
Police had arrested 300 people attempting to break into the tunnel terminal on Thursday. Each time a gap is cut in the fence, workers move to fix it. Police keep attempting to push back the migrants. It's unknown how many eventually manage to get through to Britain. Officials claim to have caught 18,000 stowaways between January 1 and May 21. Some of them find death, not deliverance, through electrocution or by falling off trains or trucks.
The British highway congestion blocking the expressway is set to be relieved by using truck parks near Folkestone on land owned by the Defence department. Calais ferry workers and their wildcat strikes have added to the mayhem, halting ferry and train services repeatedly. All combining to create the perfectly dreadful perfect storm of instability and human tragedy.
Labels: Africa, Britain, France, Middle East, Migrants